When folks spend over four decades working, problem-solving, and learning in an industry, they become intimately familiar with the limitations of the tools available for working in that industry. Some people decide to plow ahead, working through those limitations. Other people feel need to chart a new path - to innovate. And that is what David Stutzman has been feeling for quite some time. What exactly does it mean to be innovative in AEC? It is a goal for many organizations, companies and individuals to work on new tools and processes to solve lingering problems. That is what Dave set out to do: to provide a new solution to challenges he experienced in design and construction.
The success of any innovative solution is measured by how well it puts ideas and tools into practice, and then by validating the results actually solved the problems as intended. Over the past five years, David developed, built, and implemented a tool that is solving major AEC problems like team silos, lack of transparency, information gaps, budget busts, and value engineering. The tool is Conspectus Cloud.
Another success indicator receiving recognition within the industry, and who better to offer that recognition than an association of your peers? The purpose of associations is to advance an industry by bringing people to share perspectives, experience, and provide resources. Conspectus is a proud member of many organizations in the AEC industry, but as a specifications consultancy, all of our employees take advantage of the concentrated education and certifications that the Construction Specifications Institute (CSI) provides. CSI offers the education and connections that allow us to perform at the top of our industry and continuously advance in our field. CSI sets the bar in the industry by providing accreditations and certifications that advance knowledge, professionalism, and understanding of the entire construction process.
CSI rewards accomplishments through their Honors and Awards program, which is very prestigious. Its honors are challenging to receive. Conspectus was nominated and won the Innovation in Construction Award for 2020. The award was given for successfully developing, adopting, and applying a new technology and project delivery system - Conspectus Cloud - for the architectural, engineering, and construction industry. Since the inception of the award fifteen years ago, only four other organizations have received it.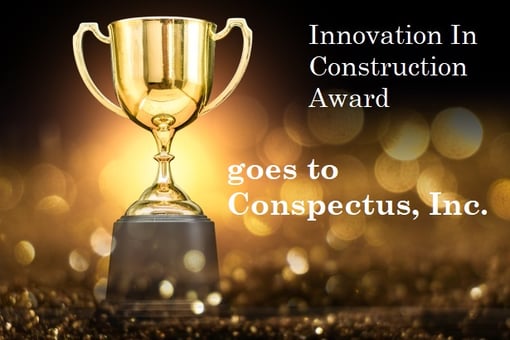 To support this nomination Conspectus Cloud received written endorsements from six industry professionals who worked with the platform. These professionals work at architectural, product representation, estimating, and technology firms including Perkins &Will, Beck Technology, MTI Estimating, Booth Hansen, Ltd., SJ Mallein & Associates, and Dialog. "Conspectus Cloud is revolutionary! It moves what traditionally is relegated to the end of a project, or a begrudging afterthought, to an inception aggregator." - Doug Maiden, Technologist, Director of Professional Services for Beck Technology.
Conspectus is honored, humbled and thrilled to receive this award. If you are curious about our award-winning platform, we are excited to show you! Submit a comment below.