One great way to make sure project specifications and master guide specifications are technically correct is to review them with manufacturers' (or independent) representatives for the specified products. As knowledgeable as most specifiers are about a wide range of topics, we usually lack full in-depth product knowledge, especially when it comes to differentiating between similar products from multiple or even single manufacturers. We, therefore, rely heavily on reps to help us avoid specifying the wrong products for an application and to help us specify the right products correctly.
There are several ways for us to seek out that help. Probably the most obvious - ask questions. Nearly every day we will send an email or pick up the telephone and call someone, describe what we're trying to accomplish, and ask for the best way to achieve the desired results. Our most trusted product reps will offer unvarnished advice, even going so far as to say when their competitors' products may be more appropriate. The challenge comes if reps from different companies offer contradicting advice. Certainly, we can use our judgment to evaluate the advice but it adds a layer of uncertainty.
Sometimes specifiers send project specs or master guides to reps to solicit review and comment. This is helpful because if reps can understand what the section is intending to specify, they can make more targeted comments. Maybe they know a less expensive method or product, or perhaps they see an internal contradiction, and fixing it helps specifiers avoid looking stupid. Product reps have helped improve hundreds of Conspectus's projects simply by offering informed advice. What we usually don't do, though, is send the same spec section to multiple reps. This takes a lot of extra time and adds a layer of administration when it comes to collecting and incorporating many sets of comments.
An ideal solution would be one where multiple reps could comment on the same spec simultaneously, answer our questions and pose new ones, and interact with one another. If competitors find themselves offering contradictory advice, the solution should offer an opportunity for them to discuss their differences in public. This ideal solution exists: Conspectus Cloud.
We have found that Conspectus Cloud works very well to get manufacturer input on project specs and master guides. The system permits them to log on and view the specs immediately, input comments, and engage in focused conversations with us and our clients that pertain to particular paragraphs in the specs. In the example below, after I asked Pat Duffy, an independent rep for OldCastle BuildingEnvelope for guidance on specifying storefront, he got into a conversation with the architect about helping us specify a window wall system.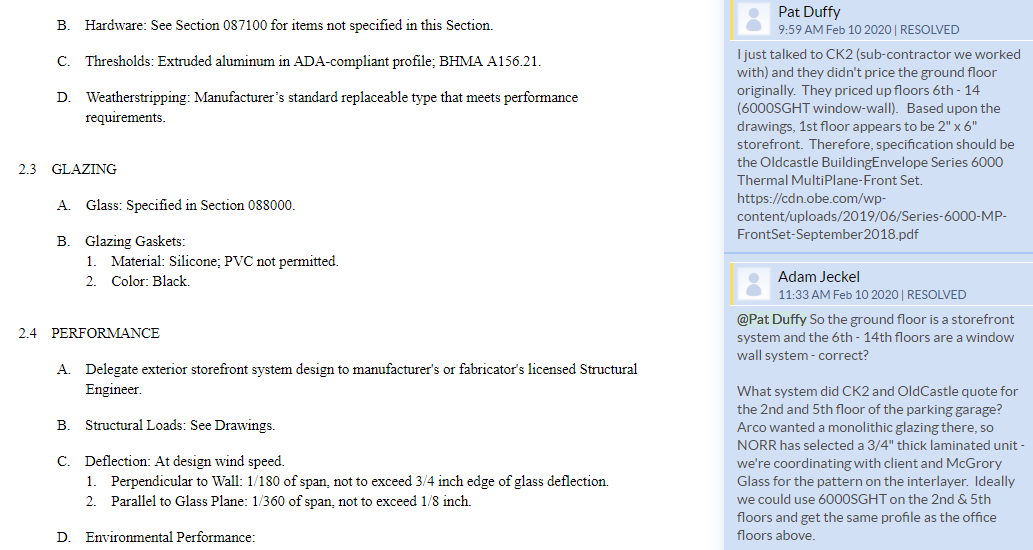 At the conclusion of the conversation, only a snip of which is shown, we modified the specification and asked all parties to verify it was correct, which they were able to do online, without us having to send any files or track email chains. The comment stays with the spec in perpetuity so all parties know that the suggestions were made and how they were implemented.
For guide specs, the process works largely the same way, with a major difference. Because we include multiple manufacturers in almost all of our guides, we are requesting feedback from as many manufacturers as are willing to participate. Each manufacturer who logs in and views the guide specs will not only make comments, they can see and reply to their competitors' comments as well. We've been fortunate that our reps have genuinely been eager to help us improve our specs and the commenters have been cooperative and built on one another's suggestions. In the following example, reps from competing manufacturers agree on a suggestion to make a resinous flooring draft guide more accurate.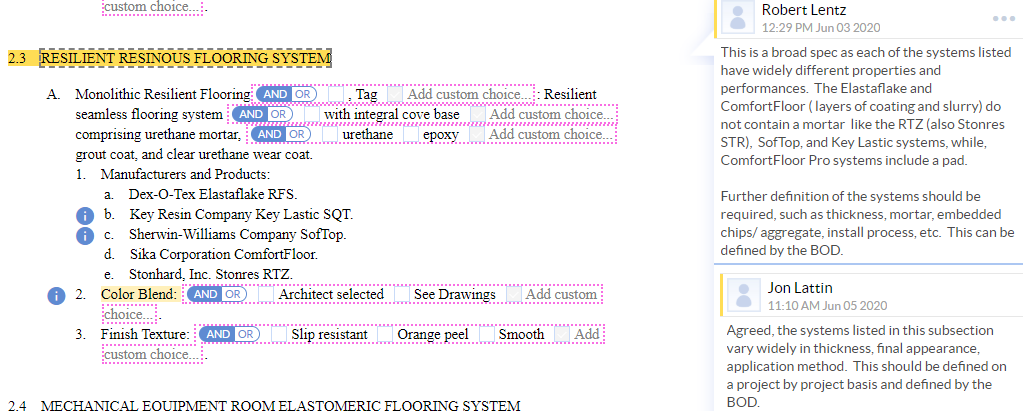 Collaboration and transparency in communications between all stakeholders in a project are critical for that project's success. Conspectus is using Conspectus Cloud to build a culture of transparency, inviting participation in project documentation by the entire team. This transparency accrues to the benefit of project owners, who get technical documentation that is vetted by subject matter experts for correctness, price, and schedule.