Keypad locks offer the advantage of removing the need for keys, while sill maintaining a secure opening. The opening security is controlled by changing the keypad combination.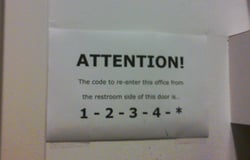 Locks are typically shipped from the factory with 1 - 2 - 3 - 4 - * as the default combination. I found this sign in an architect's office reminding the staff of the keypad combination to return to the office from the toilet rooms. Perhaps, someone thought it a good combination because of the star key.
The sign reminded me of a scene from a Mel Brooks' movie "Spaceballs" where King Roland finally gives in to Dark Helmet and reveals the combination to the "air shield" protecting his planet. The response from Dark Helmet: "So the combination is... one, two, three, four, five? That's the stupidest combination I've ever heard in my life! The kind of thing an idiot would have on his luggage!"
At a recent ASSA ABLOY seminar, I heard an architect describe completing a survey of an existing hospital. Encountering a room secured with a keypad lock, he entered the default combination and opened the door to the medication storage room. Not exactly a secure installation.
If you are using a door with a keypad lock with 1 - 2 - 3 - 4 - * as the combination, change the combination, now, to ensure the door is really secure.