I had to respond to an architect about a contractor's submittal for architectural woodwork. The contractor submitted MDF panels as the basis to construct the plastic laminate finished woodwork. The architect contended that MDF panels are not plywood. Yet by definition they are. The panel cores must be specified to ensure the selection is not left to the fabricator.
Architectural Woodwork Standards (AWS) is the North American standard for woodwork. The standard is published jointly by Architectural Woodwork Institute (AWI), Architectural Woodwork Manufacturers Association of Canada (AWMAC), and Woodwork Institute (WI). If you do not have a copy of the Standard, AWI standards to receive your copy. To learn more about their Quality Certification Program go to Quality Certification Program.
AWS has two sections that bear on this discussion. Section 10 includes the standards for casework and Section 4 includes standard for sheet products. Section 10 references Section 4, without modification, for the sheet products used to construct casework.
Section 4 defines plywood as "a panel composed of a crossbanded assembly of layers or plies of veneer, or veneers, in combination with a lumber core, composite core (MDF or particleboard) or combination core, that are joined with an adhesive."
Panels used for woodwork governed by AWS must be a minimum of 3 plies - two face plies and a core - a plywood panel. AWS does not set a default core. Section 10 allows the manufacturer to select the panel core for casework. If a particular core is required, it must be specified. Simply specifying plywood is not sufficient if specific performance is required.
The illustrations shows a 7-ply veneer core plywood panel and a 3-ply MDF core plywood panel. Plywood panels must always contain an odd-number of plies to be a balanced construction so the panel remains stable.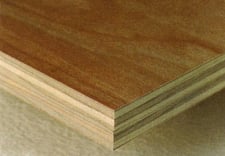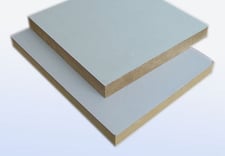 AWS includes a table rating relative properties and performance as Excellent, Good, and Fair for eleven available cores. The ratings can help designers and specifiers select the correct material for each project. MR designates "Moisture Resistant" and FR designates "Fire Retardant."
Readily Available Cores


Limited Availability Cores


Particleboard
MDF
Hardwood Veneer
Softwood Veneer
Hardboard - Standard



Combination
Lumber
Hardboard - Tempered
MR Particleboard
MR MDF
FR Particleboard
In addition to availability, the table includes six properties to consider:
Flatness
Visual Edge
Surface Uniformity

Dimensional
Stability
Screw Holding
Bending Strength
The properties for each core are rated as Excellent, Good, and Fair. The following cores received Fair ratings (worst performance) for the properties listed. Be careful selecting these cores when Good or Excellent performance is expected.
Panel Core Type

Property - Rated Fair

Particleboard
Hardboard - Standard
MR Particleboard
MR MDF
FR Particleboard

Screw
Holding

Hardwood
Veneer
Softwood Veneer

Flatness

Softwood
Veneer

Surface
Uniformity

FR
Particleboard

Visual
Edge
So select the panel construction carefully to match the project needs. Consider the use, abuse, and loading that the panels must resist. And make your selection accordingly.